***Atlantic hurricane season starts on June 1 and will run until Nov. 30. ***
WE CAN ONLY HELP WITH YOUR HELP
Thank you so much for your interest in learning more about Together Puerto Rico. We have only been able to accomplish our goals with the help of our volunteers and donors. We appreciate each and everyone of you and are so grateful for your support, contributions, social media likes/shares and for keeping Puerto Rico in your thoughts.
If you would like to make a tax deductible contribution, you can contact us for information about sending a check in the mail or by PayPal, or you can visit our GoFundMe page and make a donation by credit card.

OUR GOALS AND ACHIEVEMENTS
LAST UPDATED: 4/26/2018
To date, Together Puerto Rico has purchased and distributed 345 solar lights and 356 water filters, along with other much needed supplies. Thank you, everyone, for keeping people healthy and safe!!!
We are working on getting another 100 water filters and another 100 solar lights in the hands of Puerto Ricans who need them. 
The water filters we purchase can provide clean water for up to 100,000 gallons of water – that is a LOT of clean drinking water. Families can share the filter between houses. It takes only about 20 minutes to filter five gallons of water.
The solar lights we purchase can provide light for up to 12-24 hours, depending on the brightness settings.
Please see below for the timeline of our accomplishments with photos.
________________
MAY 2018 – Maunabo, Puerto Rico
Together with our friend and amazing volunteer and nurse, Krista Noland, we traveled an hour south to Maunabo, Puerto Rico to help clean up the a house of a man with no legs, no running water and no electricity. Krista had been to his house previously and noticed how depressed he seemed and in poor living conditions.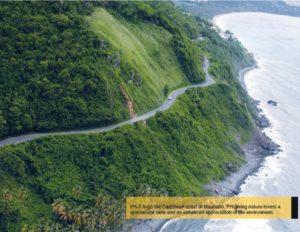 The man was a little ambivalent about us being in his home but as soon as Krista pulled out a solar powered radio, he was ecstatic. He had a huge smile and was clapping and asking us if we liked salsa music. This guy was so bored and depressed – the radio was exactly what he needed. Who knew music was going to be the thing to bring light up his face?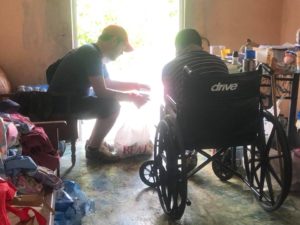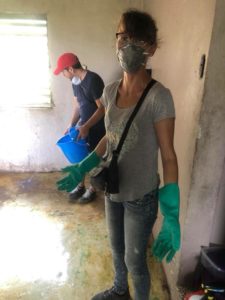 Afterwards, we checked on some neighbors and distributed water filters to people in the neighborhood. One man had a noticeable eye infection and when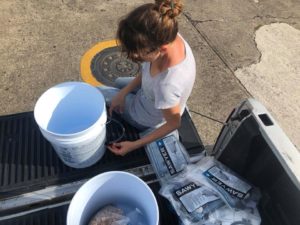 we inquired further he told us his water was yellow – his entire neighborhood had discolored water. So we took the rest of the filters to his neighborhood and plan to take some more back the next weekend. 
The people in that neighborhood really wanted the filters and were very grateful we stopped to help. We were able to provide 20 Sawyer water filters, keeping people healthy and free from bacteria and infections.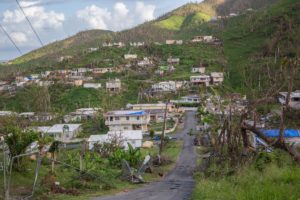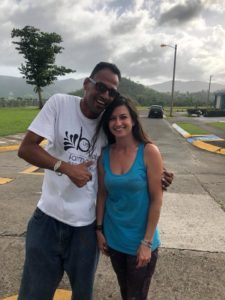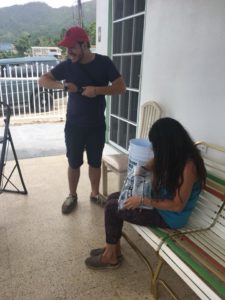 The Sawyer filters are complex filters that get the worst kind of bacteria out of the water. They are community filters, in that they can filter five gallons of water in 20 minutes and they are good for about 100,000 gallons of water — that's a LOT of water! 
And huge thanks to Angel Xavier for translating and demonstrating how to use the filters!! And thanks to Krista Noland for driving, photos and organizing this effort! (Krista is following up with man on trying to get his electricity and water in working order.)
Together Puerto Rico
❤️
❤️
❤️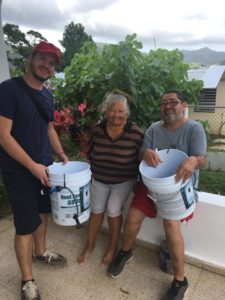 ________________
JANUARY 2018 – Comerío, Puerto Rico
We partnered with Water for Puerto Rico / Agua para Puerto Rico, taking 20 solar lights to Comerío, Puerto Rico for distribution. We also spent the day pumping water from a river to be filtered by the Divvy System, supplied by Veterans 4.
Because of Hurricane Maria, many Puerto Ricans, especially in the mountainous areas, do not have running water or access to clean drinking water. Several deaths and nearly a hundred cases of leptospirosis, a water-born bacterial disease, have been confirmed in the aftermath of Maria.
We are ensuring that people who need it most are receiving water filters which reduce death, illness and bacterial disease, like salmonella and parasites.
DECEMBER 2017 – Canóvanas, Rio Grande and Florida, PR
Canóvanas, PR
Through Water for Puerto Rico, we partnered with a pastor in Canóvanas, Puerto Rico to distribute the water filters. We gave a demonstration on how to use the water filters and the pastor and his family helped us attach them to the buckets.
The next day, the pastor distributed the filters and buckets to people in his community. They were so grateful for the supplies!! They said that no one had been to their street yet – not FEMA, not the electric company and not even the mayor. They had severe damage to their homes, which had a beautiful view of El Yunque, the National rainforest.
The pastor's family showed us video of their two story home being flooded. They had to escape out the back window and up a hill with snakes and centipedes and children on their backs. A true nightmare and they were still without electricity nearly 80 days later. The very next day they sent us photos of the people to whom they distributed the water filters and buckets and other supplies.

RIO GRANDE, PR
Together Puerto Rico accompanied Bahia Beach Resort along with other volunteers in their Christmas activity in Rio Grande. Together Puerto Rico provided 40 💦 water filters and gave a demonstration on how to use the filters.
Other groups also distributed solar lights, children's toys and other necessities were delivered in the activity. It was a great experience to be able to share and support this community affected by Hurricane Maria.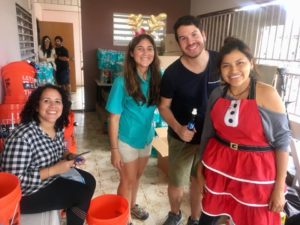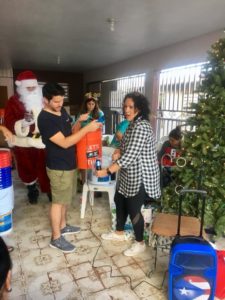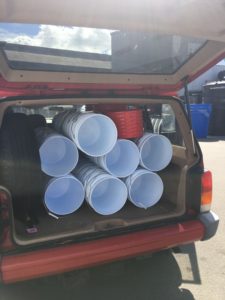 Florida, PR
We drove out to Florida, PR a mountainous town outside of Arecibo. People have not had electric there for a very long time! We distributed 35 of the water filters and buckets and gave everyone a demonstration on how to use them.
We also assisted Water for Puerto Rico with distributing other donated supplies and filtering water through the Divvy Water System, supplied by Veteran's 4. Everyone was grateful for the supplies and especially the water filters – they went quick and I wish we had been able to bring them more!

NOVEMBER 2017 – LAS PIEDRAS
Update from our Director of Operations from 11/18/2018:
There is much to be thankful for, even in the aftermath of devastation. Yesterday as I walked across a major highway bridge in San Juan I looked up to see a large flashing billboard sign that read simply "GRATITUDE".
And that is how people truly feel here. I see people hugging more on the street and have heard them as I pass by "I'm so glad you're alive! I haven't seen you!" People are truly happy just to be alive and to see their friends are well.
We actually went to Las Piedras twice – the first time to deliver supplies and the second time to bring back the water filters.
On the first trip, I rode along with Water for Puerto Rico to offer them a hand. We distributed a lot of different supplies donated from different agencies. These people were so grateful that we showed up and that people care about them … no one has had electricity for well over two months. Many had lost their roofs and belongings. One woman was so happy we showed up with tarps … she said she had been praying for someone to bring her a tarp!
Seven months later Las Piedras was still without electricity. In April, the police had blocked the utility companies from leaving Las Piedras until they had restored power. Read about it in the Washington Post.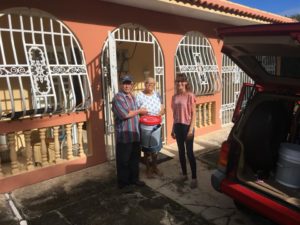 SEPTEMBER AND OCTOBER 2017
One week after Hurricane Maria, our Director of Operations landed in Puerto Rico with four suitcases full of disaster relief supplies (the maximum allowed by Delta) which were distributed by another board member/volunteer, who also happens to be a government health care worker.
Since she works from home in Puerto Rico full-time, she was displaced by Hurricane Maria to live in Tennessee with her cat and parents for six weeks as there was no electricity or internet connection. During that time, she enlisted volunteers and raised money online to purchase and ship supplies to others working in Puerto Rico on the ground, like Water for Puerto Rico.
This statement came from a volunteer who traveled with Water for Puerto Rico to Nauguabo, PR to deliver the 200 water filters Together Puerto Rico sent in late October:
"Thanks to your generosity we have been able to give food, clean water, and toiletries to people in need. One woman has a baby and lost her 14 year old to leptospirosis; that water filter was immensely appreciated."
UPDATE: 10/29/2017
Together, we have been able to accomplish the following:

After Irma:
– Purchased personal hygiene items and clothing/shoes for evacuees of neighboring islands in Ashford Hospital ($235)
– Purchased and dropped off $700 worth of food, drinks, baby items, and personal hygiene items for evacuees of neighboring islands in Puerto Rico. These people were given free boarding at a local hotel, where we dropped off the supplies.
After Maria:
– Purchased and distributed 3 multi-gas stoves to families in need ($260)
– Distributed 25 solar lights and other solar supplies and 4 water filters to AIDS patients and health workers in Puerto Rico ($1,250)
– Shipped and distributed 200 Luci solar lights to families in need in a mountainous part of Puerto Rico, via the nonprofit organization Casa Pueblo in Adjuntas, PR. ($1,265)
– Shipped and distributed 200 Sawyer personal water filters to Water for Puerto Rico / Agua para Puerto Rico to be distributed to families in mountainous regions of Puerto Rico – Aibonito and Aguas Buenas. ($1,920)
– Shipped needed medical supplies to a Doctor's office in PR – gloves, masks, alcohol swabs and water, plus two water filters and two solar panels for charging cell phones. ($160)