Help Fund Purchase of 1,000 Water Filters for Puerto Rico
The priority now in Puerto Rico is WATER.  Half of 3.4 million people do not have ANY water, and there is NO DRINKABLE WATER anywhere on the island.
Doctors Fear A Potentially Deadly Disease Outbreak In Puerto Rico
As officials try to assuage fears, Christian Romero says his brother has already died from leptospirosis. Read the full Huffington Post article here. 
At least 4 people have died from leptospirosis and many more became ill, which is a dangerous bacteria. There are water filters that can get rid of 99.99999% of bacteria, including bacteria that causes leptospirosis.
To combat this problem, Together Puerto Rico is raising another $10,000 to purchase the water filters. But we need your help — please share this information or donate to our GoFundMe campaign.
Watch the video — this reporter has become a hero for Puerto Ricans.

As heavy rains and poor drainage from the last hurricane are causing additional flooding in Puerto Rico, not much has changed in a month. People are still without power (90% of the island) and half are still without water. People are still seeking missing relatives, have not been able to contact relatives and many people in the mountainous areas have not received any help from mayors or local government or FEMA or anyone. Many private Puerto Rican citizens volunteering on their own are reporting that often when they take food/water/diapers to people in isolated areas that they are the first help those people have received. After nearly a month!!
The only good news is that now that roads are cleared, the United States Post Office, UPS and FedEx are running and at least can deliver to post offices of the major cities and towns.
I am so grateful to everyone who has donated; you know have no idea how excited I get when I hear my GoFundMe ding because I know what a difference you are making in someone's life.
The local and federal governments are failing its citizens, big time. I could get into the politics of it, but we all pay taxes for a reason and being left to die during a disaster, is not one of those reasons. Private U.S. citizens (like you!) and Puerto Ricans are stepping up to the plate in a major way and providing much needed help.
The plan is to raise money only for the water filters (1,000 of them!) and send them to Casa Pueblo in Adjuntas  and another organization called Water for Puerto Rico , which has people on the ground to distribute. I spoke to a company in Tampa – Sawyer – who will sell the water filters at cost to anyone working with disaster stricken populations, that means they will sell them for $9 for a personal water filter and $12 for a filter that attaches to a bucket. They are normally $22.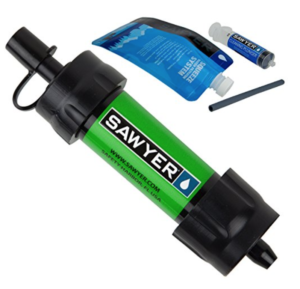 Here is the info on the filters …
High performance filter fits in the palm of your hand; weighs just 2 ounces; 0.1 Micron absolute hollow fiber membrane inline filter
Attaches to included drinking pouch, standard disposable water bottles, hydration packs, or use the straw to drink directly from your water source
Removes 99.99999% of all bacteria, such as salmonella, cholera, and E.coli; removes 99.9999% of all protozoa, such as giardia and cryptosporidium
Filter rated up to 100,000 gallons; includes 16-ounce reusable squeeze pouch, 7-inch drinking straw, and cleaning plunger
If you want to help, please donate to the campaign, share the campaign on Facebook/Twitter and tell your family/coworkers/friends. Please. This is the link: https://www.gofundme.com/togetherpuertorico
And just so you know TOGETHER, we were able to send 200 solar lights to Puerto Rico via a Houston to Casa Pueblo in Adjuntas, PR. who distributed them to some of the hardest hit areas of PR. 
THIS IS A HUGE BENEFIT TO PEOPLE, SOME OF WHOM HAVE BEEN WITHOUT LIGHTS SINCE HURRICANE IRMA HIT 2 MONTHS AGO. YAY!! YOU DID IT!! 
____________________________________________________________